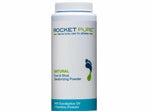 What a year it has been for Rocket Pure so far… we have released a brand new natural sunscreen, developed our anti-chafe balm into a "no mess" stick formula, and are so excited to announce the release of our new natural foot and shoe deodorizing powders!
We know athletes push their bodies to the limits. In addition to sore muscles, the outcome is often smelly shoes, feet and bodies. Rocket Pure's foot and shoe deodorizing spray is the No. 1 foot and shoe spray brand in the world, so our customers asked for a deodorizer that also has drying capabilities.
Our new foot and shoe powders deodorize and dry, and help make the shoe environment less hospitable to bacteria, which causes odor.
The deodorizing powder comes in two fresh scents- Eucalyptus and Cedarwood.  Rocket Pure founder Alex Armitage said he selected these two scents because eucalyptus and cedarwood both have some anti-microbial properties.  He says when you couple that with the drying effects of the powder, these new products will kill any foot funk thrown at them.
At Rocket Pure we believe in providing products that our customers can use daily without fear of harmful ingredients.  That's why our natural foot and shoe deodorizing powders are made with all natural and organic ingredients, and no toxic or suspect chemicals.
Here's a list of some of the ingredients in our natural foot and shoe deodorizing powders:
Corn Starch
Bamboo Extract
Eucalyptus Leaf Oil
Peppermint Oil
Cedar wood Leaf Oil
Rosemary Leaf Oil
Already use Rocket Pure's Foot and Shoe Deodorizing Spray?  Now you can double down on your fight against smelly feet and shoes by using it in combination with the powder.  Using them together will deodorize and dry the stinkiest of feet and shoes.
If you are an athlete that pushes themselves to the limit, you know you need this product.  Your gear is likely wet, muddy, worn, frayed, and of course… stinky!  Any athlete that comes back from a long run with wet and muddy shoes, a bike ride after a rainstorm, or a gym workout with sweaty shoes- needs Rocket Pure's foot and shoe powders.