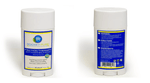 Looking for a no-mess solution to your chafing thighs and armpits? At Rocket Pure we now have your answer.  Friction Therapy Natural Anti-Chafe Balm Stick is now an honored part of our inventory of natural body care products for athletes.  This new product comes after years of research and development, and we are proud to be able to offer  it to you both at our online store www.RocketPure.com and at Amazon.com.
At Rocket Pure we have been offering our Anti-Chafe Balm in a tube for many years and received positive feedback from our customers on it.
One customer wrote, "I love love LOVE this product. It's all natural and it's the only one that works for me and my husband. We are both runners and cyclists and fitness freaks. A LOT of sweating and rubbing causes some serious pain- in some serious places.  This prevents chafing by creating some sort of magical mystery barrier. It applies nicely, smells wonderful and has a nice light tingling sensation."
Rocket Pure founder Alex Armitage says that many customers ask for a "no-mess stick formula" for the anti-chafe balm that glides on easily with a flick of the wrist.  So from those requests came the development of our new stick.
One of our biggest goals at Rocket Pure is to provide athletes with natural solutions to the body care products they need to keep themselves at optimum performance level.  That's why we use only natural and organic ingredients in our anti-chafe stick and include no toxic or suspect chemicals.
Here's a partial list of some of the natural ingredients in our anti-chafe balm stick:
Grape Seed Oil
Beeswax
Shea Butter
Rosemary Leaf Oil
You can see there's no magic mystery ingredients (okay, maybe a few!). But there are years of testing to come up with the best combination of natural ingredients to keep your skin happy while exercising.
This product is perfect for runners, triathletes, cyclists, hikers, swimmers, surfers, or any athlete who is susceptible to chafing.  You don't have to be a hardcore athlete to use this product, though.
See this great review a customer left who used the balm to help her continue being able to enjoy daily walks.
"I have walked every day 3-8 miles for several years. Recently, a skin condition resulted in me (having to apply) a healing ointment to my feet. After walking 3 miles, my feet were red, blistered and very painful. Obviously, the cream I had utilized had created a serious issue. I hunted for something to help me walk again and avoid blistering. After reading about Rocket Pure, I thought, why not try it? My feet were still painful when I took my first short walk with it. The results? Well after two weeks, no more additional issues. Rocket Pure kept more blisters and redness from occurring. The net result is – I can take my long walks again. Highly recommended!"
So, with this success in mind, we improved our tube balm formula to make it work just as effectively in a no-mess stick form. This new product provides athletes with a "magical mystery barrier" that will help even the toughest athletes – all with an easy application.
Whether you experience blisters, pain or chafing on your feet, hands, thighs, armpits, or anywhere else where there is tight clothing or consistent rubbing- get your hands on this new natural anti-chafe balm stick from Rocket Pure, and keep your body in comfortable motion.