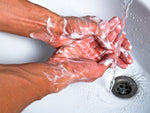 What comes to mind when you think of winter? 
Ski runs in fresh powder? A run on a rainy forest trail? Or slogging through the snow to get to the gym?
The reality is that in the winter many people deal with dry, cracked hands. Chapped skin is caused by cold dry air in combination with hand-washing. Winter is also cold and flu season and with the recent outbreak of the Coronavirus, hand-washing is even more common this year. But, it dries out the skin by removing lipids and natural oils. 

Couple all of that with our outdoor activities -- and a few Crossfit kettlebell sessions -- and you have a recipe for dry and cracked hands. 

With all of the news about the flu and the Coronavirus, we wanted to take a look at a few statistics.
Handwashing Facts and Stats, according to All Portable Sinks:
On average, you come into contact with 300 surfaces every half hour, exposing you to 840,000 germs.

Only about 5% of people wash their hands correctly.

Around 33% of people don't use soap when washing their hands.

Up to 80% of communicable diseases are transferred by touch.

 
The CDC recommends everyday preventive actions to help prevent the spread of respiratory diseases, including:
Avoid close contact with people who are sick and avoid touching your eyes, nose, and mouth.
Stay home when you are sick.
Cover your cough or sneeze.
Clean and disinfect frequently touched objects and surfaces.
Wash your hands often with soap and water for at least 20 seconds, especially after the bathroom, before eating, and after blowing your nose, coughing, or sneezing.
For those of us who visit gyms, it's important to use antibacterial or alcohol wipes provided to wipe down equipment surfaces and weights.
Unfortunately, these antibacterial and alcohol wipes can also dry out your hands. 
How to prevent dry chapped hands?
Protect your hands while outdoors with winter gloves.

Wash wisely. Use luke-warm water, not hot.  

Use a gentle soap. Avoid heavily scented, antibacterial or foaming soaps that contain chemical additives and strip the fats and oils from your skin.

Most important: Moisturize. 
Moisturize, Moisturize, Moisturize
The only way to combat all these conditions is to keep your hands moisturized. This sounds easy. All you have to do is apply a hand balm, cream or lotion, right?
In theory, sure. But it's more complicated than that as we've highlighted previously. Definitely keep a moisturizing product with you at all times. The longer you leave your hands dry, the worse they can get. This can eventually lead to deep cracks and even bleeding. 
It's not hard to apply a balm throughout the day if you use Rocket Pure's Natural Hand and Foot Balms that are small and portable enough to carry with you in your gym bag, car, desk, etc. With our natural and organic ingredients, you can use these on your hands and feet as well as elbows, knees and even face and lips.