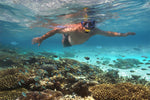 Rocket Pure cares about the environment and your health and our sunscreen certificates show our commitment to providing natural and reef-safe products.  Through independent lab testing, Rocket Pure has been certified as a "Best Beach and Sport Sunscreen" by the Environmental Working Group (EWG) and Reef Safe by the Safe Sunscreen Coalition.
What is the EWG, Why Does it Matter?
EWG's mission is to empower people to live healthier lives in a healthier environment. With breakthrough research and education, they help to drive consumer choice and civic action.
They are a non-profit, non-partisan organization dedicated to protecting human health and the environment.  Their team of scientists, policy experts, lawyers, communication experts, and programmers work tirelessly for you, the consumer, to help you make safer and more informed decisions about the products you buy and the companies you support, like Rocket Pure.
What does "Reef-safe" Really Mean?
| | |
| --- | --- |
| Every year between 6,000 and 14,000 tons of sunscreen enters the waters around reefs and the surrounding areas, according to the US National Park Service. Studies by NOAA have shown that the chemicals in these sunscreens may be contributing to bleaching and the declining health of our oceans coral.  Manufacturers have started to offer "reef safe" formulas because of the risk that sunscreens pose to the environment. But what does that mean really? | |
| | |
| --- | --- |
| | The term "reef-safe" is typically used to identify sunscreens that do not contain oxybenzone and octinoxate, two common UV-blocking chemicals that can cause coral bleaching. When coral bleaches or turns white, it's still alive, but it's under severe stress, which leaves it susceptible to disease and death. |
The four common sunscreen ingredients that have been shown to kill or bleach coral at extremely low concentrations (as low as one drop in 6.5 Olympic sized swimming pools) are: 
Oxybenzone

(Benzophenone-3, BP-3) - disrupts coral reproduction, causes coral bleaching, and damages coral DNA. Found in over 3500 sunscreen products worldwide.

Butylparaben

- Preservative ingredient shown to cause coral bleaching.

Octinoxate

(Ethylhexyl methoxycinnamate) - Shown to cause coral bleaching.

4-methylbenzylidene camphor

(4MBC) - Shown to cause coral bleaching. Allowed in Europe and Canada, not in the USA or Japan.
In July 2018, the state of Hawaii banned the sale of sunscreens containing oxybenzone and octinoxate. The city of Key West, Florida, followed suit in early 2019. 


What Else Can You Do To Help Protect Coral Reefs?
Global warming, pollution, and other human activities pose additional and significant threats to the survival of coral reefs. However, the results of these sunscreen studies should be taken seriously and if you plan to swim, scuba dive, or snorkel near coral reefs you should use reef-safe sunscreen.

When You're Shopping For Sunscreen
When you do shop for sunscreen this summer take the time to purchase the following:
Sunscreens that do not have oxybenzone and octinoxate in the listed ingredients
Mineral-based sunscreen with the ingredients of zinc oxide and titanium dioxide
Ingredients are "non-nano"
Reef-safe labels
Rocket Pure sells reef-safe sunscreen in both 1 oz and 3 oz tubes.
Rocket Pure's Commitment
Rocket Pure is proudly made in the USA and only uses mineral sun-protective shields such as non-nano zinc oxide as our active ingredients and we stay clear of all chemicals that could cause harm to you, the ocean environment and coral reefs.  We will continue to strive for certification as "Reef Safe" by the Safe Sunscreen Coalition as well as stay on the EWG's "Best Beach and Sport Sunscreen" list.  
 Click to purchase Rocket Pure Natural Broad Spectrum SPF 30 Sunscreen Lotion.