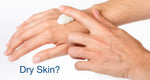 The average human has about 20 square feet of skin, making it the largest organ of the body.  
The outermost layer, or epidermis, provides a protective barrier to keep moisture in and toxins and the elements out. Companies have created dozens of different names for treatment of one of the most common issues related to our epidermis: dry skin.
Dry skin is caused by a variety of factors, including nutrition, hydration, and exposure to weather and the elements. When your skin is red, dry, cracked, or ashy, what do you do?  You reach for the nearest bottle or jar of "stuff". But really what is that stuff you are putting on your skin?  
The common goal of all of this "stuff" is to retain or replace the moisture that has been lost, and repair and regenerate the skin making it more supple, smooth and moisturized.
So what is the difference between all of these treatments? To make things simple, we're going to focus on the three main terms used: lotion, cream, and balm. 
The main difference between all of these is the formulation. As a consumer, you'll notice the feel and consistency of each is different.  
Lotions: Lotions are typically the lightest consistency of these skincare products and include water as one of their main ingredients. They have a low oil content and typically only moisturize for a short period of time. Many lotions use synthetic preservatives or alcohol to prevent microbial growth. This alcohol can dry out the skin -- the exact opposite of the lotion's purpose. Lotions frequently come in a bottle with a pump.

Cream: Creams typically have a lower water content than lotions and therefore a higher oil content. Creams are thicker than lotions and are often packaged in jars, tubs or glass containers. Most creams and moisturizers are formulated for the face to plump the skin and help reduce the appearance of lines and wrinkles with additional anti-aging and treatment ingredients added to achieve the desired skin outcome. Facial moisturizers that are used every day are typically lighter in texture. 

Balm:  Balms are typically plant oil and wax-based ointments used to heal or soothe the skin. They are thicker than lotions and creams and don't contain water. Balms can have a consistency somewhere between a heavy liquid to a solid. Balms provide superior protection and deeply nourish skin because they use plant oils, butters from nuts and fruit, and waxes such as beeswax. While balms may feel greasier than lotion, those oils are doing their job at nourishing your skin.
While the choice between using these different treatments is a personal preference, our recommendation is mostly balms. Why?
Because of their thicker, soothing consistency, balms are best for extremely dry areas such as the hands, joint areas or the heels and feet. It is common to apply a balm to hands and feet and cover with cotton socks or gloves, especially at night, to help restore moisture and repair the skin. Also, balms don't contain alcohol, which dries out the skin.
That said, the key to skin repair and maintenance is to find a product that works for your skin type and your personal preferences.
How can Rocket Pure help you?
At Rocket Pure we manufacture all our products in the US and use only natural and organic ingredients to create our line of balms.  There are no harsh chemicals or parabens in any of our products.