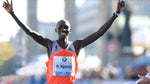 Kipsang Sets Marathon World Record in Berlin
Kenyan Wilson Kipsang set a world record for 2 hours, 3 minutes and 23 seconds at the Berlin Marathon on Sunday, Sept. 29.
He took 15 seconds off the previous record set two years ago by fellow Kenyan Patrick Makau, also in Berlin. Sunday's win was the sixth time the men's world record has been set in Berlin since 1998. The women's world record has also been set in Berlin two times, strengthening the course's reputation as the world's fastest.
Kipsang had a pace of about 4:42 per mile.
"Looking at my marathon progress and career so far, I still think I have the potential to run faster," Kipsang told reporters, according to media reports. "Anything under 2:03:23 would do."
Like what you're reading?  Sign up here for blog notifications, tips and a 10% off coupon.