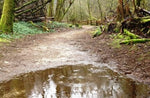 Up here in the far reaches of the north west, we have a sense of humor about the weather. We have no choice, or it will beat us down, especially in the rainy winter months.
But sometimes, you have to take the weather, grab it by the neck and teach it a thing or two. It doesn't hurt to laugh during the act.
A few weeks back, Sarah and a good friend of ours, Jen, decided to go out for a run in Pacific Spirit Park out near UBC in Vancouver. It was getting late and the sun sets early this time of year. It was also pouring rain.
Soaked in no time
I put on my Merrell Trail Gloves and a thin rain jacket that lost its waterproof ability years ago. We got out of the car and we were soaked before we even got to the trails – a distance of just 50 feet or so. Rain was falling through the dark evergreen forest and pounding our heads and the trail. There was mud and puddles everywhere on the trail — or what was left of it.
We each had a few deliberate puddle stomps, realizing that trying to avoid the mud and water was an exercise in futility. We hooted and hollered as we pushed and splashed onward. We quickly forgot about the rain. As we twisted and turned and followed the hallway of trees, a good 45 minutes went by before we even realized it. As we got back to the car, we realized that we were all laughing and smiling at how we had forgotten about the rain.
Like what you're reading?  Sign up here for blog notifications, tips and a 10% off coupon.