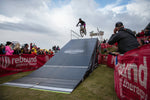 The Blitz mountain bike race in Bend, Oregon, is composed of the 40 best pro men and women mountain bikers in the nation. This makes it one of the most fun and challenging races of the year. This is not your traditional race as it has three competitions within the route. This is including a sprint between two boulders, fastest clocked speed on pavement, and a big air ramp where riders try to impress the judges by launching themselves from rock to ramp. To finish it all off, there is the mandatory beer chug at the finish!
Road Trip
The road trip to the event started in my home state of California. There was a stop in Seattle to watch my Argentinian soccer team play against Bolivia. After my countrymen came through with a victory, we finally made our way to Bend, Oregon for the coolest race of the year! On Thursday afternoon by 4:30pm we were shuttled to the top of the mountain. This so we could get ready to warm up our legs and see who would endure this three-stage race. The first hour was a straight down single-track section with the occasional drops, switchbacks, and punchy hills.
Big Air and Beer Chugging
Near the end of the race is a Cyclo Cross section. It weaves its way through a golf course with different obstacles like speed traps, and a big-air ramp that catapults you as high as you could possibly want to be on a mountain bike! I was battling one other girl right up until the finish, but I sealed a 5th place podium finish with the legendary beer chug. Let me tell you, after sprinting my way down a mountain, and around a golf course the last thing I felt like doing was downing an extremely cold beer!
I did however persevere without throwing up, and was excited that I made the podium! The post-race arm wrestling competitions were canceled due to bad weather, but regardless the night was topped off with more bikes and plenty of local Deschutes beer to help celebrate one of my favorite events!
Now it's back to training and getting my body back in order with the help of Rocket Pure. I can't wait for my next event which is 15 miles of the Downieville Downhill for the All Mountain World Championships!
See you there!
-Caro
California-based Carolina Villafane races for the CycleSport-Specialized p/b MuscleMilk and focuses on cyclocross racing.