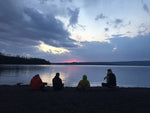 Running 140 miles from our front door in Cooke City, MT to Old Faithful in the heart of Yellowstone was the single most difficult physical challenge I've ever attempted.
It all started in the spring of 2016 while looking at a map of the region; I was making mental notes of all the places I wanted to visit and started thinking it would be cool to visit a bunch of them by doing a big cross country traverse.
A somewhat new love of trail running (3ish years), and ultra running specifically, had started taking over more and more of my free time each summer— so I figured, maybe, just maybe I could pull it off, especially if I had the right crew. So I started putting feelers out to fellow runners Justin Angle, Beau Fredlund, Walker Ferguson, and photographer Fred Marmsater.
Soon I became we.
Everyone was on board, and psyched.
Putting together a kit for a trip like this is a challenge (fortunately ultra running requires a fair bit less gear than my usual ski mountaineering exploits)! We didn't weigh everything, but each item that came along was contemplated and intentional.
We brought 1 Delorme inReach for the group (and had our porters carry another). We had 1 knife for the whole crew, 1 small first aid kit, and 2 canisters of bear spray (for the person in the front and the person in the back). We even coordinated sunscreen. Each camp was slightly different and had varying amounts of luxury and ability to tweak the kit.
Given that we were averaging 28 miles/day for 5 days we had to have our gear dialed, and take the best care of our bodies possible. Feet, skin, and eyes were my main focuses with regard to body care. We had our porters bring in a small kit of Rocket Pure products to each camp to help keep our bodies as happy as possible throughout the journey.
FEET
I knew feet had to be a high priority. We were going to put them through the paces (literally) so keeping feet as clean and dry as possible was a high priority. Each morning we would start with fresh socks and clean, dry feet. Foot and Shoe Deodorizing Powder at our camps ended up being super important, especially for a few of us that got blisters. Having wet wipes to clean our feet (and everything else) in the mornings and evenings was also key.  Unfortunately our route had a fair bit of creek and marsh fording that was unavoidable and made foot management extremely difficult.
SKIN
Sunscreen & Lip Balm was key for the entire journey, with days 1 and 2 being especially nuclear. A daily swim near camp was also key to keeping our skin clean and happy. In addition, we were running with medium sized packs (enough emergency gear for a bivy), so the Friction Therapy Balm ended up saving my back where my pack straps rubbed. On the fourth day I also started getting gnarly quad cramps and used the Cooling Muscle Balm (along with bear spray roller massages en route) as therapy.
EYES
The biggest key with eye care was to keep them covered with sunglasses and a brim of sorts (sun hats, ball caps, and visors were all utilized). In addition, keeping sunscreen out of the eyes is crucial. One of the things I like most about the Rocket Pure Zinc Sunscreen is that it doesn't drip with sweat (and leak down into my eyes). A dunk and a wet wipe bath at the end of the day and I was mostly good as new each morning.
For me, this trip was the ultimate test of endurance and mental perseverance. It was surreal to push my body past what I thought it was physically capable and come out on the other side. In some ways it was like a vision quest— a spiritual journey, taking me into a whole new dimension of possibility. Read more about the run: http://www.patagonia.com/blog/2017/03/a-park-on-the-run/
Like what you're reading? Sign up here for news, tips and a 10% off coupon.